Enlist Our Ford Service Pros for the Best Maintenance and Repairs in Great Bend, Larned, Russell KS and Ellsworth KS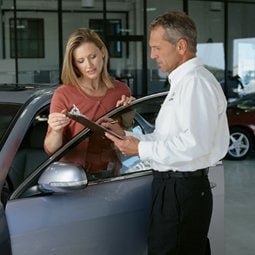 The service center at Marmie Ford employs expert technicians who provide high-quality repairs in a timely manner. Located in Great Bend, we are conveniently located for our customers who live in the Larned and Russell, KS areas.
Our auto technicians will ensure your new or used Ford Escape, Expedition, or F-150 truck runs well for all the miles ahead of you. Our auto team is trained to diagnose and fix any problems your vehicle may have correctly. We also offer routine maintenance that will help your vehicle run efficiently.
Schedule Your Next Appointment near Ellsworth, KS
We know that your busy schedule can get in the way of taking proper care of your vehicle. That's why we have made it easy to schedule a service appointment online at a time that works for you! You can also take advantage of our monthly service specials that can help save you money. Marmie Ford offers a long list of auto services, including:
Oil Change
Tire Rotation
Wheel Alignment
Brake Inspection
Air Conditioning Repair
Check Engine Light Diagnosis
Battery Replacement
Transmission Repair
Visit Marmie Ford for Auto Service & Repairs You Can Trust
Treat your car, truck, or SUV with the care it deserves by visiting our Ness City Ford dealership's service department. We are located at 1815 10th Street for all your auto service needs. We look forward to helping drivers throughout Saint John and Great Bend!
Ford Service FAQs
Our attention to detail and diehard commitment to excellence are a couple of the reasons why you should choose to have your vehicle serviced with Marmie Ford of Great Bend. Our highly-skilled technicians can prolong the longevity of your vehicle with routine maintenance and handle any major vehicle repairs.
We know that you might have questions about your vehicle. That's why we have some quick answers available to help our customers make better decisions about servicing their car, truck, or SUV. We're here to help, and you can always reach out to our service center for a more personalized response.
How often do I need an oil change for my car, truck or SUV?
That depends on the year and model of your vehicle. You can take a look inside your owner's manual for a specific figure. Most Ford vehicles require regular oil changes between 5,000 and 10,000 miles. So, there's a wide range there.
Some Ford models come with the Intelligent Oil-Life Monitor® system. It's an onboard system for your vehicle that calculates exactly when it should be serviced. If in doubt, you can just bring your vehicle to Marmie Ford and our service technicians can assist you.
What are the signs that my vehicle's brakes need changing?
If you hear your vehicle making screeching or grinding sounds when you apply the brakes, your brakes most likely need servicing. If you routinely travel from Russell to Larned, then your brake pads could get quickly worn down from your daily commute.
Your vehicle's brakes are vitally important. It's not a maintenance issue that you should prolong or avoid. The Marmie Ford service team runs a comprehensive brake inspection that can pinpoint specific brake issues and ultimately save you money.
When do I need to replace my car's battery?
Under normal circumstances, most car batteries will last between three to five years. Our service team conducts battery inspections during your regularly scheduled maintenance visit. So, most motorists will only need to change their batteries every few years.
However, there are plenty of factors that influence your battery's health. You should take notice if your battery is leaking fluid or if your vehicle hesitates to start. If you notice that your vehicle is experiencing any of these problems, then it's time to bring your vehicle to our service center in the Great Bend area.