We Supply Genuine Ford Parts and Accessories to Drivers in Great Bend, Larned, Russell KS and Ellsworth KS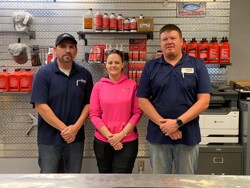 When it comes to auto service, it's important to make sure you're doing the job right the first time. Luckily, we here at Marmie Ford stock a wide variety of Genuine Ford Parts and Accessories that have been specifically designed for your model. So the next time you want to take on the job from your driveway or garage, we hope you'll think of our Ford parts center near Larned.
Why Purchase Parts from us
Many parts stores believe imitation parts and accessories will work just fine for your Ford truck or SUV. But we know that there is just no substitute for factory-backed parts and accessories that have been purposefully tested and certified for your new or used Ford model. If you choose to go with aftermarket parts, you will not experience the same level of quality, craftsmanship, or warranty coverage that's found with the parts in our current inventory.
Visit Marmie Ford to Purchase Auto Parts or Accessories
Need help finding a specific Ford part around Ness City or Saint John? Our on-site Ford parts specialists are here to help you out throughout the shopping process. Our professionals will take the time to find the exact replacement part before installation. We want you to get back on the road as soon as possible.
If you're ready to purchase parts or accessories near Ellsworth, KS, we encourage you to fill out an online order form, give us a call, or stop by Marmie Ford in Great Bend to get started.