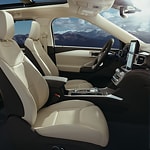 When it comes to the most popular of three-row SUVs, the new Ford Explorer takes the lead. This innovative SUV has it all when it comes to exciting design features. Discover why these features can make all of the difference when you need a reliable and high performing SUV for your driving needs today.
One of its most captivating features is its adjustable LED headlamps. These headlights adjust themselves to the condition in which you drive. If you drive in rainy or snowy conditions, they adjust to compensate for the poor visibility. If you are driving at night, they extend far ahead on the road so you avoid getting in an accident.
The all-new Ford Explorer also comes with adjustable, foldable seats to allow for maximum access to the middle and back row of seating. You can easily get in and out of the back row without having to climb over the middle row of seats.